Program matches common ground
A lot of fun things can be done in a month. Just ask Randy and Kristi Billinger, rural Wellsville, and 7 1/2-year-old Jonathan Murray, Baldwin. They are the first match made through Big Brothers/Big Brothers of Baldwin City.
Murray, who is being raised by his grandparents, Gary and Edith Murray, has spent a month of Saturdays with the Billingers.
They've gone horseback riding, watched "Snow Day" at the movie theater, played basketball, played frisbee with the Billingers' dog and watched videos.
"We are busy every visit," Kristi said Saturday from a lawn and garden show in Ottawa, the trio's most recent outing. "We are having a lot of fun."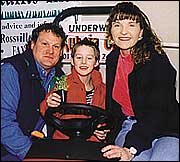 Jonathan was one of a dozen children on the local Big Brothers/Big Sisters waiting list. The Billingers said the process of being matched with Jonathan consisted mostly of worthwhile paperwork.
"We filled out a lot of papers, and Big Brothers/Big Sisters matched our likes with the children they have in the program," Randy said.
"They had three to pick from, and they chose me," Jonathan boasted.
The lawn and garden show the Billingers visited over the weekend is a perfect example of how they spend time doing what they all like to do. Kristi likes flowers and gardening. Jonathan likes rocks, and he proudly showed two he got at the lawn and garden show.
"Randy is a geologist (with the Kansas Department of Transportation), so Randy and Jonathan spend a lot of time looking at rocks," Kristi said. Next weekend's trip has already been planned a rock and gem show in Kansas City, Mo.
Other plans for the future also are being made. The Billingers plan to help Jonathan with schoolwork (Jonathan's favorite subject in Carolyn Stansberry's first-grade class at Baldwin Elementary School is math), and Jonathan plans on helping them plant flowers. Randy said work like that will be mixed in with their activities.
"That's not going to be work, it's going to be fun," Jonathan said.
Jonathan also wants to go fishing in the Billinger's pond, ride their horses again, go bowling and play golf.
"He's going to have to teach us how to play golf, because we don't know how," Kristi laughed.
Chris Griggs, director of the local Big Brothers/Big Sisters, said the program is designed to provide a consistent mentor for children from single parent homes, or, like Jonathan, being raised by relatives. The program's grand opening and ribbon cutting is at 6 p.m. Thursday at its office, 820 High Street. The Billingers and Jonathan, board members and Griggs will be available to answer questions about the program.
Two more matches were made in the past week. However, Griggs said two girls and seven boys are still awaiting matches.
"We definitely still need volunteers," Griggs said.
Griggs said the match between Jonathan and the Billingers is a success story.
"They really are close," she said.
Edith Murray said Jonathan has changed his shy ways since spending time with the Billingers. She and her husband, age 47 and 49 respectively, have been raising Jonathan for nearly three years and have adopted him.
"He comes back and he is so happy," Edith said. "He is all smiles. He just loves Kristi and Randy, and they do have a lot in common. I think Big Brothers/Big Sisters will be great for Jonathan."
The Billingers said they are still getting to know Jonathan, but his out-going personality is making that easy. And they are having fun trying to do what they think will be fun for Jonathan.
"We hadn't been to the movies for a really long time, Kristi said. "We are having fun."
Jonathan, who isn't nearly as shy now, agreed.
"They are fun," he said. "We get to go out everywhere on Saturdays."