Taul is a multiple volunteer
Surely you've seen Carol Taul's face before, if you don't know her personally. She's the first one you see when you walk in The Baldwin City Signal office, where she is the office manager and circulation director.
She's also the first person you may see at Baker University basketball games selling tickets or at Baldwin High School events helping the Bulldog Booster Club and watching the games at both. There isn't a 4-Her in Baldwin that doesn't know her.
The Signal is celebrating its first birthday today, and the staff sought the perfect person for the paper's weekly feature. Taul was an easy choice, because she's become such an important part of The Signal.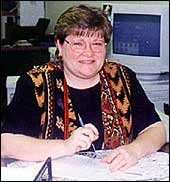 She's a bonafide expert on Baldwin, although she was raised in Lawrence, but it's the nature of Taul to do what she does without bringing attention to herself.
"Carol has been the perfect person for her important position here," said Jeff Myrick, editor and publisher of The Signal. "She's usually the first person that everyone comes into contact with here, whether they walk in the door or call us. She's also an incredible source of Baldwin information. If she doesn't know the answer to a question that comes up, she knows exactly who to call. She likes to stay in the background, but we'd be lost without her."
Taul could still be considered a newcomer to the city of Baldwin, but not the community. She's used to the country life and the dairy farm her husband Jimmie operated west of town from 1974 until 1995. The Tauls live on Fremont Street now, but they still have a herd of Holstein and a Brown Swiss, which are shown by their children Nickie, 19, and Katy, 15.
She takes vacations to go to Holstein shows and serves as an adult advisor to the Kansas Junior Holstein members. Douglas County sports the largest 4-H dairy program in the state. A county-wide dairy project was started two years ago.
"We are just getting it off the ground and it's fun to start from scratch," she said. "I like working with the kids involved."
4-H can occupy almost every night of the week. She's been a community leader for the Palmyra 4-H Club for at least 11 years. She's a member of the 4-H Kansas Dairy Action Team. She serves on several 4-H committees.
"That's what it takes," Taul said of the time she dedicates to 4-H. "But I also enjoy it. Our friends are 4-H people. It's something our family can stay involved with together."
Her involvement with 4-H started with her children 12 years ago when Nickie started 4-H. Katy is a freshman at Baldwin High School, and can be in 4-H another four years. Life can get a bit crazy before and during the Douglas County fair Taul could do all the preparation in her sleep.
"She's an incredible encouragement to her family and her club and to the county 4-H program as a whole," said Kelli Ludlum, county 4-H agent. Ludlum said Taul was one of the first people she met when she started her position in June. "I am grateful for the fact that she is such a willing volunteer. She has a combination of ability and the willingness to share those abilities which is what makes her so special.
"Her caring for people is the final added touch."
In what little spare time Taul has, she collects Longaberger baskets and is an avid Jayhawk fan.
On Sundays she sings in the church choir at Ives Chapel Methodist Church, where she is a part-time pianist and organist and a member of the Evening Circle United Methodist Women.
Then, before she knows it, it's Monday again. If she's moving too fast for you to see her, stop by The Signal office, where it's not surprising that she is busy.