'

Music Man' was marvelous during record run
When the curtain closed Saturday night on the Baldwin City Theatre's production of the "Music Man," the downtown area started to return to normal. But, that wasn't before an incredible record run which had the area bustling.
On Thursday, which was family night, a Baldwin City Theatre record crowd of 313 attended the play. On Friday night, downtown was hopping with not only the play, but Hedge's Real Estate's annual ice cream social. Then came Saturday's finale.
Amid the threat of rain the last two nights, the show went on and thrilled the crowds who turned out. The seven-night run saw attendance reach between 1,300 and 1,400, which was easily a record-drawing performance.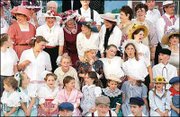 "It was awesome," said Kathy Davis, "Music Man" producer. "I appreciate the cast, the crew, the directors, the orchestra and everyone else who made the show such a success."
The ice cream social added an old-time taste to the downtown celebration. Crystal Williams said there were 175 bowls of ice cream served and what was left was sent to the play cast for a treat after the show.
"It was wonderful," said Williams. "It went very well. We had people here from 2-years-old on up. It was a lot of fun."
Cast of The Music Man
Cast: Traveling salesmen Matt Keller/Dan O'Connell, David Masurd, Pat Pouliot, Steve Wintermantel, Erich Timkar; Charlie Cowell Knute Pittenger; Barbershop quartet Matt Keller/Dan O'Connell, David Masurd, Pat Pouliot, Steve Wintermantel; Conductor Bob Martin; Harold Hill Mike Boring; Mayor Shinn Mike Swann; Marcellus Washburn Todd Hayworth; Tommy Djilas Shane Goldring; Marian Paroo Beth Rea; Mrs. Paroo Joanie Bauman; Amaryllis Lynne Lammers; Winthrop Rye Musgrave; Eulalie Mackecknie Shinn Jan Cooper; Zaneeta Shinn Nandini MacMillian; Gracie Shinn Laura Pouliot/Madeline Roger; Alma Hix Dar Welborn; Maud Dunlop Heather Ballinger; Ethel Toffelmier Candace Jones; Mrs. Squires Susan Pouliot; Pickalittle and townspeople Lisa Carson, Paula Donohue, Chris Eichhorn, Joanne Eichhorn, Diane Franklin, Kerry Jarosoak, Sharon Magee-Minor, Mary Moore, Diane Pittenger, Debbie Winstone, Karen Wray; Young ladies Katie Beall, Sarah Bezek, Mikaela Carson, Deyonna Cornelius, Erin Marie Jansen, Stephanie Minor, Emily Pouliot, Laura Pouliot, Skye Reid, Jessie Thorup, Jessica Tyree, Amelia Wilson, Michelle Wray; Young men Levi Moore, Michael Pouliot, Evan Wilson, Chris Winstone; Teen ladies Jessica Brewer, Mindy Brown, Ariel George, Stephanie Jarvis, Michelle Pressgrove, Cori Thompson, Stephanie Winstone, Sheila Zook; Teen men Drew Bolt, Richard Jarvis, Paul Minor, Aaron Story, Taylor Thorup.
Orchestra: Conductor Ed Lammers; Woodwinds Betty Bullock, Kendal Butler, Stuart Dorsey, Elaine Lammers, Marti Schonberger; Violins Susan Jarvis, Charlene Potter, Tonia Salvini, Anna Kraxner; Trumpets Bill Funk, Corkier Hedlund, Bob Laushman; Cello Kay Brandt; Trombones Aaron Drumright, Cathy Sutton, David White; Bass Bill Butler; Piano Mary Barbush; Percussion David Ludwick, Danny Wellman.
Production: Director Dan O'Connell; Producer Kathy Davis; Producer intern Lari Gray; Musical director Ed Lammers; Vocal director/accompanist Mary Barbush; Choreographer Stacy Carrington; Assistant Rachel Buckley; Design artist Joanne Eichhorn; Store manager Cindy Goldring; Stagehands Chris Eichhorn, Knute Pittinger, Aaron Story; Sound Bill Davis, Jim Wright; Lights Katie Baldwin; Master builder Heather Ballinger; Construction crew Jim Ballinger, Joanie Bauman, Bob Bezek, Jessica Brewer, Bruce Brown, Dan Carson, Danielle Carson, Lisa Carson, Mikaela Carson, Marion Constantinescu, Jan Cooper, Tim DeMott, Susie DeMott, Morry Dixson, Bo Jansen, Candace Jones, David Jones, Nandini Macmillian, Pat Pouliot, Martha Wright, Deb Winstone, Stephanie Winstone; Painters Jessica Brewer, Drew Bolt, Danielle Carson, Lisa Carson, Mikaela Carson, Brad Danler, Shane Goldring, Nick Goldring, Kerry Jarosoak, Kerry Martinez, Sharon Magee-Minor, Stephanie Minor, Pat Pouliot, Susan Pouliot, Jessica Tyree, Cassie Pahcoddy, Skye Reid, Deb Winstone, Karen Wray; Costume creator and coordinator Linda Ballinger; Assistants Nancy Brown, Jan Cooper, Anita White, Deb Winstone; Hat designer Anita White; Assistant Linda Ballinger; Children's coordinator Susan Pouliot, Sue Brown; Baker University student assistants Lashon English, Julie Johnston, Amy Kirkpatrick, Amanda Lytle; Makeup/hair Martha Wright; Assistant Mary Moore; Props manager Susan Jansen; Assistants Susie DeMott, Kim Thorp; Signing for the hearing impaired Susie DeMott, Susan Jansen; Tickets Lari Gray; Photographer Kim Hubbel; Assistant Lynne George; Publicity Bill Gray; Concessions Baldwin Band Boosters; Guild coordinator Robin Miller; Financial coordinator Kerry Martinez.