A leg up: Keller combines two loves to help children
Dressed in overalls and cowboys boots, 7-year-old Tyler Nyberg slides off the horse he is riding, grins and takes a big bow. Peggy Keller, an occupational therapist, returns the smile with words of praise.
She has been working with the Vinland Elementary School student for eight weeks, using a form of therapy called hippotherapy. Hippotherapy literally means treatment with the help of a horse, and a grant allowed Keller to do hippotherapy with two elementary students in the Baldwin school district this spring.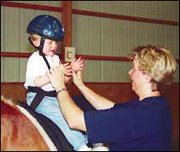 "The things I can do in the arena with this horse far outweigh what I have done in a clinical setting," said Keller, who has a clinical specialty in hippotherapy, which not many people have, she says, and is a certified therapeutic riding instructor.
Keller's office is an indoor riding arena and her equine co-workers are Haflingers at LMP Farm, just north of the Douglas County State Lake. The farm is owned by her father, Larry Parkin.
"It is truly my love," said Keller, who has shown quarter horses, as well as the Haflingers, across the nation. "It's the perfect match."
The parents of the children receiving hippotherapy say it has been the most beneficial of all therapies improving balance, coordination, strength, language and many other skill areas.
Specialized training
Keller has been using hippotherapy as a treatment tool since 1995, but has been involved in some form of riding for the handicapped since 1979 starting as a volunteer. Many of the families who travel to LMP Farm on a weekly basis started working with Keller at Heartland Therapeutic Riding in Stilwell, where she will continue to work part-time through July. Her plans are to begin a full-time program at LMP Farm.
Several of the children Keller worked with at Heartland, now travel to Baldwin for hippotherapy. Matt Fink, 8, has been meeting with Keller the longest. Fink was born with congenital heart defects and suffered a stroke after an open heart surgery as an infant.
"When he started, he wasn't walking," said his mother, Kathy Fink, Overland Park. Matt was 2 1/2 at the time. "After about three sessions, he took his first steps. He had been in therapy forever, so we know it was the horse."
Keller said it is the horse's movement that is therapeutic for the children impacting a wide range of physical and sensory areas.
"The walk is truly the most therapeutic gait," she said.
Kathy Fink said not only has her son improved his balance and coordination, but he does better in school after his hippotherapy session. The spelling words he doesn't know on the way to the session are usually memorized on the way home. Hippotherapy is also the closest activity to a sport that Matt Fink can participate in.
"Because of his heart problem, he can't participate in any sports," Kathy Fink said. "Horseback riding and swimming is all they will let him do.
"He can do stuff on a horse he can't do on the ground."
During a recent session, Keller quizzed Matt Fink on math problems as he moved in various positions on the back of Mike, an 8-year-old Haflinger gelding.
"These tricks aren't easy," Keller said of the movements arms extended like an airplane, arms straight out in front, arms high in the air, turning to face backwards on the horse.
Another benefit of hippotherapy is the self-esteem it tends to create.
"In school, Matt is so much different than the other kids, but he has so much self-confidence. Peggy is phenomenal," said Kathy Fink.
Seeing results
Nicholas Evans, 4 1/2, has been one of Keller's hippotherapy students for two years. He had just started walking and was not saying any words. He attends hippotherapy sessions with Keller twice a week.
"Physically, we definitely saw a change little things people take for granted, such as walking on an uneven surface," said his mother Claudia Evans, Lawrence. "One of the reasons we started was for balance issues. We wanted to help him with walking and running, and it did."
Letters, numbers and pictures of familiar objects hang on the walls of the indoor arena. The educational tools are part of the therapy.
Keller has gotten some spontaneous words from Nicholas Evans. He uses the "O" sound for trot, and Keller swears he has said "truck."
"That's when we realized we could tap into the whole language thing," Claudia Evans said.
Keller also has been working with 3-year-old Ryan Robinson, who has cerebral palsy, since March. He and his twin sister were born three months premature. She does not have cerebral palsy.
"He seems to really enjoy it," said Ryan's mother Marsha Robinson, Olathe. "It should help him with his ability to walk unassisted some day in life."
Ryan Robinson, who can walk with a walker, also goes to physical therapy, aquatic therapy and speech therapy.
"All of these therapies work together, and have made him able to walk and crawl," Marsha Robinson said.
In the schools
Last Wednesday, Baldwin school district officials and community members visited LMP Farm to see hippotherapy first hand. The two district students who participated in hippotherapy this spring Tyler Nyberg and Russell Anderson were part of the demonstration. Anderson will be a first-grader at Marion Springs Elementary School next year.
"I think the teachers would back us that they have seen improvement in the children," Keller said. "I think both children have enjoyed themselves."
As part of the grant, Ruth Foehringer, a speech therapist in the district, also worked with the students during the sessions. Foehringer said she is sold on hippotherapy. During the eight-weeks, Keller and Foehringer noticed improved balance in the two boys and an improved grip on a pencil. When he wears a riding helmet, Nyberg doesn't talk with his mouth clenched.
"I didn't know anything about horses," Foehringer said. "Peggy said just pretend the horse is your therapy table and it was a piece of cake."
Keller hopes the district will continue to make hippotherapy available for special needs students and seek out more grant opportunities.
Success stories
The Haflingers that Keller and her family have been raising since 1989 have the qualities needed for hippotherapy. The breed, with its golden coat and white mane and tail, is known for its tolerance, gentleness and willing nature.
Keller said Haflingers also are the right size for the job not too tall, but large enough to have a long, therapeutic stride.
"Their temperament is wonderful," Keller said. "And size is important, because from a therapy stand-point, I don't want them over my head."
Keller, a graduate of Baker University and the University of Kansas, said she considers all of her students to be success stories. The parents feel the same way about Keller. Not only does she work with their children in the arena on the back of a horse, Keller teaches the children off the horse as well working on some of the same skills by climbing the gate into the arena, for example.
"Peggy gives every ounce of herself when she is with the kids," said Claudia Evans. "She is so encouraging."
For more information about hippotherapy, call Keller at (785) 594-3746 or at LMP Farm, 594-2506.