Just like any other farmer, Gilbert Gilges has been waiting for the rain and cooler temperatures that finally came in the night Sunday. At age 83, he is still farming nearly 600 acres near Worden, and he remembers growing seasons much hotter and drier than this one.
"I've seen it before," Gilges said of the recent weather. "I guess it is Kansas it goes from one extreme to another."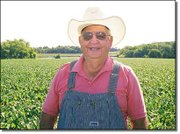 Gilges has always been a farmer, and he has always farmed in the Worden area. The 600 acres of corn, soybeans and hay pastures he farms now is done with the help of nephews Winston Gilges and Verlyn Gilges.
Growing up, Gilbert Gilges helped his father do thresh work and custom hay baling for other farmers. Later in his farming career, Gilges provided custom combining for farmers.
"My dad had the second self-propelled combine in the county," Gilges said.
Although he's seen it before, the hot, dry weather worries Gilges. The heat can make the blooms fall off the soybean crop surrounding his home. And corn needs moisture during critical growing stages, because "if it turns dry and hot, the kernels aren't as deep," he said.
Without an irrigation system, Gilges relies completely on Mother Nature.
"We are pretty dry right now," he said. "We missed out on some of the rain we've had around.
"I can remember some drier seasons and some hotter ones, but I don't remember what years. When we did custom baling, there were years we'd have to wait until the evening to bale."
Gilges said the prices crops fetch seem to be competing with the weather lately.
"The prices of the crops are the worst thing right now," he said. He said the low prices are blamed on overproduction. "Yet we have people in the world who are starving.
"The trouble with farming is when you go to town to buy fertilizer, they tell you how much it is, but when you haul your crop to town, you don't get to say how much it is."
As Gilges watched one of his tractors being hauled off for repairs, he said farming sure has changed during his life.
"We started off farming with horses," he said. "There is a big change in equipment. We went from open-pollenated corn to hybrids. There is a different way we till the soil. We used to till everything, now there is no till."
Fertilizers and chemicals have also changed the face of farming.
"When we first started, if corn made 30-35 bushels an acre, you were doing good," he said. "Now it has to be 100-125 bushels an acre. And it costs more to do it."
Gilges supposes he is getting close to retiring.
"I'll do as much as I can for as long as I can," he said. "When you get to be 83, you ought to start slowing down."
As for his farming longevity, Gilges said it is in his blood.
"It's in your blood, maybe I don't have the sense to quit," he said. "It's a necessity."
In the community
Gilges has been, and still is, as nurturing to the community as he is to his crops.
He served as a leader for the Worden Workers 4-H Club for 30 years, volunteering well beyond the 4-H years of his four daughters Judy Sieg, Glenda McDaniel, Nancy Stephany and Carolyn Hicks.
"Some of the first kids I had, I had their kids in 4-H later on," Gilges said.
For all of his 4-H volunteer work, including serving on the Douglas County Fair Board, Gilges has been the recipient of many awards. He and his wife Hazel, who died about five years ago, were presented a Family of the Year award in 1969. In 1980, Gilges received the Douglas County Extension Appreciation Award, and the Dorothy Aiken Leadership Award in 1981.
"I guess I won about all the awards there was in 4-H," he said proudly.
He still enjoys visiting the Douglas County Fair, which is July 29-Aug. 5 this year, and seeing the accomplishments of the 4-H'ers.
"I like to watch the judging and all the 4-H kids with their projects. I enjoy being with them," he said.
Gilges has also served on the Douglas County Farm Bureau board, as a trustee of the Worden United Methodist Church, on the Ottawa Co-op board and was a Baldwin school board member when Marion Springs School was built.
"About that time, the state was promoting the consolidation of rural schools. So we had to build a school," Gilges said of Marion Springs, which consolidated six or seven rural schools, he said.
Gilges still serves as the treasurer of the Willow Springs Township, a position he has held for 27 years.
"I was always community-minded," Gilges said. "I enjoyed all that. I wanted to contribute all I could."
In addition to his contributions to farming and his community, his family is his pride and joy. He has 11 grandchildren and four great-grandchildren "with more on the way," he said with a smile.