Doing the dirty work - that's the 'dirtheads'
A maroon USD 348 truck comes to a stop between the high school and junior high. The two passengers and driver hop out and immediately say, "that was probably the worst job we've had to do this summer. Come and smell the truck; doesn't it smell terrible."
Jason Rose, Blake Glover, John D'Orvilliers and Kim Sledd are used to doing odd jobs, but emptying the grease traps from the high school kitchen was not a highlight. Sledd had escaped having to do the grease dumping and was busy weeding.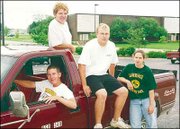 "Within about 20 feet of the buckets of grease I was about ready to puke," said Glover.
"You probably shouldn't ask me what I think of our job right now," added Rose.
These four are the most recent in a long tradition of Baldwin High School students, graduates or teachers that spend their summer mowing, moving classroom furniture, weeding and doing any other odd jobs that are asked of them.
"They call us 'dirtheads' (pronounced dirt-heads)," said Glover. "It is pretty much because we get to do the dirty jobs that nobody else wants to do."
"There have been dirtheads for the 17 years that I've worked here," said John Gottstein, director of buildings and grounds. "They're here to help out wherever needed."
"They really come in handy when there are big projects to do," said Merritt Ball, director of maintenance. "This summer we don't have a lot of big projects, so it is a challenge to keep them busy."
According to the dirtheads, their bosses have no trouble keeping them busy.
"They always have something lined up for us to do," said Glover. "We recently were given a piece of paper called 'dirthead duties' for things to do. We know that if we run out of things there are always weeds to be pulled."
Gottstein said that through June and early July they are able to find something for them to do, but towards the end of the summer things start to run out and the heat starts to take its toll, so they spend more time "looking busy."
According to Eric Schwarz, a former dirthead, some of the best times at work were spent when they did not have things to do. "The work was tiring so we managed to take some free time. We used our free time wisely, sometimes sleeping, sometimes driving around to 'see what needed to be done.' "
This year's dirtheads are still keeping themselves busy.
"To keep busy Blake and Kim can always go shred paper," said D'Orvilliers. "While Jason and I do the real stuff."
One of the more challenging jobs for the dirtheads this summer was cleaning the gutters out around the maintenance building.
"Jason almost killed himself cleaning out the gutters," said D'Orvilliers. "He was up on the ladder when it collapsed underneath him and he was hanging there for a while. It was pretty funny."
Glover quickly added his "near death" experience.
"I was out weed eating when Jason drove by on the hopper (the large riding lawnmower) and he ran over something metal and it flew about three inches from my face ... I was like 'whoa, that was close.'"
While the workers have been able to escape injury, the same cannot be said for some of their tools.
"We've broken both weed eaters, a couple of weeding tools and a sledge hammer," said Rose. "John even broke a crow bar."
The dirtheads have a unique work schedule. They work 10 hours, from six in the morning to four in the afternoon, Monday through Thursday, and then have a three-day weekend. They start with minimum wage and each additional summer they get a small raise.
When asked about the positives and negatives of the job, the response is the similar from past and present dirtheads.
"The pay isn't the greatest," said Ryan Reed, who worked for three summers. "But you get to work with friends and spend time outside."
"The work wasn't too demanding and you could do it at your own pace," said Schwarz. "But the low wages hurt a little bit."
The present dirtheads agree.
"You have a lot of fun working with your friends," said Glover. "You even get a truck to drive around. It is definitely better than working fast food."
"Getting up at 5:30 in the morning is hard, and minimum wage is tough," said D'Orvilliers. "But you get a good tan and you never have a boss hovering over you. I couldn't think of a better summer job, except maybe being a life guard."
Sledd nodded in agreement.
"They are getting a lot of good real world work experience," said Ball. "Getting up every morning and coming to work even if you don't want to and learning to work with others is valuable for them."
"Some of them come in without any real work experience," said Gottstein. "It is good for them to get their hands dirty."
One of the most important things for the crew is to find ways to make things fun. Every crew has had their own way to enjoy work.
This year's crew made a game out of staking railroad ties into the ground by limiting the number of hits allowed per stake. They also have several dirthead theme songs, which is anything sung by John Mellencamp.
Reed said his crew always put dry lasagna in Jim Johnson's mailbox because it was always funny to see Johnson's reaction. They also always played cards and played Keno at Kwik Shop on their breaks.
"We would watch movies at Abby Honomichl's house if we ran out of things to do," remembered Schwarz. "We actually took one afternoon off to go water skiing."
"Every crew is definitely different and special in their own way," said Gottstein. "There have been a lot of good kids that have gone through here."