Flag tradition flies on in Baldwin City
Once again, Baldwin City residents were treated to a Fourth of July tradition full of patriotism and community.
As has been the case since 1994, when Baldwin awoke July 4, there were miniature flags in almost every yard. They are the result of the efforts of three local businesses, but mostly it's the result of Krystal Williams.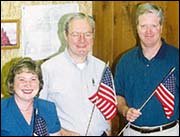 Williams, branch manager of Hedges Real Estate, started the tradition six years ago. Back then, it took 600 flags and four people to do. Now it's up to 1,200 flags and 12 people.
But, no matter how many or how long, it's all about fun.
"I think it's fun to go all over town and put something in everyone's yard that's patriotic," said Williams. "I do it now because it's fun and people expect it. They'll step out and say hi and thank you.
"It's really a thank you to the community for all they've done," she said.
The tradition started with Williams and Hedges, but it wasn't too long before the Baldwin State Bank joined in and then Hilco Mortgage. The project is now funded by all three.
"It's a nice Fourth of July touch," said Carl Butell, of the Baldwin State Bank. "Krystal gets the credit."
Dave Hill of Hilco, who has also treated the group that puts out the flags to breakfast afterwards since he got involved, also gives Williams the credit.
"I think it's a great tradition that's been started," said Hill. "It's a great idea. I wish I would have thought of it."
Williams stops short of taking credit for the idea. She started it here, but it's been done in her home town of Lebannon, Ind., since she was young. She had forgotten about it until the early 1990s.
"The idea also came from a lady in Lawrence who came in and did a marketing presentation," said Williams. "She mentioned the benefits of such a program and that jogged my memory of Lebannon. Lebannon is a lot like Baldwin."
Hedges opened its Baldwin branch in 1993. When July 4 of '94 rolled around, out came the flags. The first year it was only Williams and three others who distributed the 600 flags and it took four hours to do. The next year it went up to 700 flags and the memory of that year is still fresh in her mind it rained.
"I'll never forget the second year," she said. "There was Debbie French driving down the road in her Jeep with Barb Goff running behind her with flags draped over shoulder, putting them in the yards in the rain."
In 1996, the number of flags went up to 850 and stayed there for the next year. Last year, there were 1,000 flags. This year there are 1,200 and a dozen people to distribute them. Does that show how Baldwin has grown, or is it something else?
"It's a comment on how we've been able to expand," she said. "When we first started we just did it in the center radius of Baldwin. Now we've expanded to FireTree Estates, Signal Oak, Heritage Addition and Prairie Addition.
"Now it only takes us an hour and a half to two hours because of the help we have," she said. "We also have the routes down."
And each year the stories continue from the effort.
"There was one year when an older gentleman called me and said there was a boy taking the flags out right behind us," said Williams. "He stopped him and made him put them back."
She's found the Fourth of July effort to be rewarding, too.
"We get a lot of thank yous," she said. "The American Legion always says thanks and so do so many others. They really like the patriotism and the community togetherness it brings."