Keeping score keeps him young
Fifty years ago, Jim Johnson bought a house from his brother-in-law Marvin Craig, moved his family to Baldwin City and started keeping score for Baldwin High School basketball games.
He hasn't stopped yet.
"My brother-in-law was keeping score. I bought his house, so I just took over his job," said Johnson.
Conservatively, at 20 games per year for 50 years, that's 1,000 Baldwin High basketball games Johnson has not only seen over the years, but been an integral part of. He's the guy setting at the scorer's table, who the game officials often come to for information. It's an important job.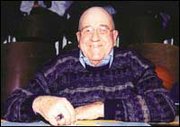 "It really is," said Johnson. "I keep it for the officials. Mostly they're wanting to know what the score is (when they come and talk). I keep track of the score, fouls, free throws. I don't keep track of the errors they make too many.
"I also have to keep track of how many quarters each player plays. They're only allowed to play five quarters (in a combination of varsity, junior varsity or freshmen games). I have to keep track of that and it's difficult sometimes because they play in two different gyms," he said.
Johnson has become a fixture at the gym now located in the Baldwin Junior High which originally was Baldwin High. The gym, considered the best in the Frontier League even at 30 years of age, still hasn't seen as much BHS basketball as Johnson has. He was keeping score when games were played in the gym at Baldwin Elementary School, which once was BHS as well as BJHS.
"It was a crackerbox," Johnson said of what is now the BES gym. "You wouldn't believe how noisy that place was."
And possibly more amazing than how long he's been official scorekeeper, Johnson has no plans to stop.
"I'm going to try to keep the book some more," he said. "It's just a love of basketball. I love being around the kids. I think it keeps me young."
And how young is Johnson?
"I'm 81," he said. "Most people think I'm in my 60s, but I ain't. I've got two stainless steel knees."
He admits those knees don't allow him to play games, but it's never stopped him from watching. The changes he's seen over the years could fill a book. Most noticeable, however, are the physical changes in the players that play the game and how they play it.
"It's changed a lot," he said of basketball. "It's got faster and more physical. It used to be if you were 6-foot-1 you were tall. Now if you're 6-1, you're short."
Johnson has seen 50 years of BHS teams and that doubled when girls' basketball was added in the early 1970s.
"I've seen some good teams and I've seen some poor ones more good than poor," he said. "The 1975 (boys) team was real good. They were short, but fast. We had one 6-3 kid and the rest below 6-foot. When they were freshmen, they won everything they played."
That team went to the state tournament, but the first-round game was against the top team in the state and they lost. Johnson has also seen some standout individual players over the years, but is hard pressed to pick the best.
"The Sheldons, Tim and Brian, Mike Johnston, Richard Barkley I can't remember them all, there were so many of them," he said. "I've seen good coaches and mediocre coaches. I think we've got two good ones now (Bobby Taul and Mike Berg).
Johnson saw girls' basketball start from scratch and has seen some good teams, most notably the state title teams of '82 and '96.
"They were pretty good when they started," Johnson said of the girls who were playing in the early 70s. "But, the girls have gotten a lot better over the years. They are more physical and they don't back off."
He likes this year's teams, too, and sees the opportunities they have as they enter sub-state play next week with a chance to advance to the state tournament in Salina.
"This year's girls' team is good and if they get together, they can do it," said Johnson. "The boys have a good chance. They're jelling as a team and getting better every game. That has to do with the coach and he's real good, I think."
He's had children go through the Baldwin school system and play sports. He and his late wife, Ruby Margaret, raised Merle, Margie, Dale and Carl in Baldwin. Merle died when he was 22.
"They went all the way through school here and are BHS graduates. They all played sports, except my daughter, because they didn't have girls' sports then," he said.
Johnson was born in Chillicothe, Ill., and raised in Lawrence. When he moved to Baldwin in 1950, he also started driving busses for the school district for sports teams and had a steady route for 15 years. He just retired from driving the sports busses a year ago.
"The doctor said it would be better if I quit," Johnson said. "But I'm in better health than a lot of them out there."
His roots started with sports and he's just as recognizable for his umpiring and coaching softball and baseball as he is for scorekeeping. It also helps that he's kept the clock for BHS and Baker football during the years. He knows the games from experience.
"I played baseball when I was a kid I played catcher," said Johnson. "I played football a little, but not much. I was too big and heavy to play basketball."
Over those 50 years he's gotten to see lots of games and gotten to know lots of kids. He doesn't plan on changing that.
"I love it," said Johnson. "I love sports and I love the kids you're in contact with."