Baker shows birthday pride
Baker University celebrated its 142nd birthday Thursday, commemorating the day with a convocation, guest lecture and a birthday party at the mens and womens basketball games that night.
The day honored Baker's founding in 1858, as well as its connection to the Methodist church. University president Dan Lambert, in his 13th observance of Founders Day, reflected on the start of the university by people who were wise and faithful and dedicated to education, although not always educated themselves.
"It is among United Methodists we stand, and it is in their footfalls we find our own," Lambert said during a morning convocation. "They had little else to offer, yet they were willing to give all they had to see their vision become a reality. They gave hope in their own time and created a wonderful dream for the ages."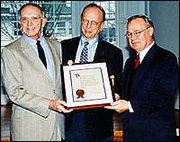 The convocation's guest lecture was given by James Gustafson. Gustafson is ordained in the United Church of Christ and is considered one of the leading Christian ethicists and scholars of our day. He discussed ethical choices the public and institutes of higher learning will be forced to make in the future in his lecture "Who or What Are We?"
"We do change in the process of a liberal education," Gustafson said. "Some of our beliefs our discarded. Some of our ways of life are discarded and some are taken up. Why ask these questions here, now? To raise in our mind whether through the curriculum students are given an opportunity to think critically about who and what they are."
Gustafson also led a clergy workshop Thursday afternoon.
As part of the Founders Day celebration, birthday cake and other goodies were provided at Thursday's basketball games against Evangel. Students took turns singing Happy Birthday to earn t-shirts. Also given away were pom-pons, candy and other prizes.
On Friday afternoon, two former Baker University faculty members were inducted into the Faculty Hall of Fame. John Wesley Heaton, who was inducted posthumously, and Tom Russell join 17 Baker professors in the Hall of Fame, located in the upper level of Constant Hall.
Russell, in the company of several family members, joins wife Alice Anne in the Hall of Fame. He jokingly told the small crowd at his induction that they are finally even.
Russell was a member of the Baker faculty for 19 years, serving from 1963-1982, retiring as professor of art. He was chair of the art department from 1963-1971. A well-known professional artist, the Holt-Russell Gallery at Parmenter Hall is named in his honor as well.
Heaton was a member of the Baker faculty for 21 years, from 1942-1963, serving as professor and chair of the department of history and political science. Heaton served on numerous faculty committees, including the Lyceum Committee from 1942-1959. The Lyceum Committee was the predecessor of the Cultural Events and Co-Curricular Activities Committee.