A few hours a week helps library run
The most used resource at the Baldwin City Public Library is its more than 20 volunteers. And if they have one thing in common, it's the spirit of volunteering for their community. Their most common donation is time a few hours once or twice a week. It added up to more than 2,000 hours last year.
"I don't know what we would do without volunteers" said librarian Kathy Johnson, who herself started as a volunteer in the 1970s.
From checking out books, to helping patrons use the Internet, to ensuring every book is in its place, volunteers are familiar faces to library users. And it doesn't take long for the library to become a familiar place for volunteers.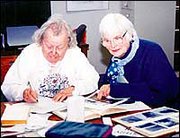 "I think in my sleep I can find things," said Kristine Furlought, who has been assisting the library's progressive move toward automation requiring the bar-coding of 19,000 books.
They have various reasons for volunteering from being a former librarian to avoiding the certainty of overdue books, as Susan Butell said laughing.
"Because I need to and I like to," said Marjorie Cooper of why she volunteers. She also volunteers at the Baker University alumni office. "I enjoy the people, I enjoy all the children, and I like to help when I can."
Less than 10 years ago, there weren't many library volunteers because not much could be done in the small space that is now the police department. When the new library opened at Seventh and High in 1992, not only was there room for more books, but for a larger volunteer staff as well.
"The old library was so small, there wasn't anything for a volunteer to do," Johnson said. "We have always had 15 to 20 since we moved here."
Phyllis Braun, one of five part-time employees of the library, said the work the volunteers do is not only important to the running of the library, it's fun.
"The volunteers outnumber us three to one," she said.
Dorthea Jackson is one of several long-time volunteers and is a former member of the library's board. Jackson volunteers as an automation consultant, and within the year she hopes to have the library's computerized system for checking out and looking up books ready for the public. It has been years of planning and work all time she has enjoyed spending with library patrons and staff.
"It isn't just books, it is the interaction with people in the community," Jackson said. "It is a good way for people to get acquainted with the community."
Katharine Kelley has also been volunteering for "many years." She is there daily, researching local history and recording the new history as it happens.
"I keep pretty busy, all right," she said, working last week to find an obituary from the early 1900s.
All of the volunteers said they are co-workers and friends.
"What I like about all the volunteers is all the harmony. We all work well together," said Furlought.
Phyllis Ballew agreed and it's one of the reasons she has volunteered for four years.
"I retired and within four months I was looking for things to do for the community. That's one of the things I like to do, volunteer," said Ballew, who was an assistant librarian at Baldwin schools. "It's like family when you work here."
The volunteers are priceless, Johnson says of her co-workers. They feel the same way about her.
"She is so easy to work for and she knows what she is doing and everybody likes her," Ballew said.
"She still does a lot of volunteer work," Butell said.
Current volunteers are: Phyllis Ballew, Matthew Bowman, Margaret Brown, Susan Butell, Marjorie Cooper, Ava Cummings, Pud Fothergill, Kristine Furlought, Ivy Hey, Reva Irick, Dorthea Jackson, June Jewett, Sandra Johnson, Katharine Kelley, Alan Norris, Janet Payne, Mary Plank, Mildred Purvis, Betty Simunac and Virginia Wilson. Volunteers who regularly do work outside of library hours are: Joyce and Tom Hobson, Jean Lawson, Margaret Baker, Kari Gorton and Danny McMillen.
Johnson said there are so many other community members who volunteer their time to the library, including the library's board members and Friends group.