Musical tells geniune tale of marriage
One need not be married to find something familiar, something of themselves, something quite enjoyable in the Baldwin City Theatre's production of "I Do! I Do!"
Veterans of the stage Marion Constantinescu and Heather Ballinger star in the two-person show as husband and wife Michael and Agnes. The musical comedy tells the story of their wedding day, through the growing up of their children, to moving into an apartment from the house they lived in most of their lives.
The two-person cast pulls the audience into the story from the first song to the last, with voices that are perfectly matched. The musical's score tells much of the story with songs including: "I Do! I Do!" "I Love My Wife," "The Waiting Room," "Flaming Agnes," "The Honeymoon is Over," "My Cup Runneth Over," "When the Kids Get Married," "The Father of the Bride," "What Is A Woman?" and "This House."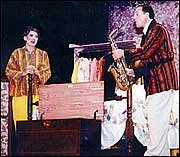 As in any relationship, Michael and Agnes experience love, happiness, doubts and disagreements all true to the reality of marriage.
Michael is a novelist who supports his family writing romance novels something he dreams of giving up as soon as their two children grow up and get married. The fun and the trials that come with marriage are evident through the birth of the couple's children, to the couple making lists of how the other could improve (his only needs a tiny piece of paper, her's is long as paper from an adding machine), to waiting for the son who is out late celebrating the new year, to dreaming of life without children, to considering life without each other.
"I have seen it so many times and I am always in tears," said Kathy Davis, CLEAR Foundation coordinator. "It is a very realistic attitude of a marriage and what it takes to make a marriage work. Everyone is going to see themselves in this play."
Throughout their marriage, Michael and Agnes talk the hard times through each time realizing their love has weathered many storms and will continue to do so. Over and over again, they realize how much they love each other when they sit down and think about it.
There are just as many funny moments in the musical as tear jerkers such as the time Michael and Agnes thought they had discovered a bottle of bourbon in their teen-age son's room, and it turned out to be cod liver oil apparently not taken by their son during an illness a few years earlier.
The musical is directed by Donna Kane-Swan. She has directed Lawrence Community Theatre productions and has a doctorate in theater from the University of Kansas. She is assisted by husband Mike Swan, the play's producer; Carol Cooper, music director; and a host of volunteer production workers.
The musical continues this weekend with shows at 8 p.m. Saturday and 2 p.m. Sunday at the Baldwin Junior High School auditorium. Dinner will be served prior to the performances, beginning at 6:30 p.m. Saturday and 12:30 p.m. Sunday. The dinner is catered by S & J Catering. The menu is Italian chicken on rice or swiss steak with salads, vegetables and dessert.
Dinner theater tickets are available for $18 each at Santa Fe Market, Baldwin State Bank and Whitney's Creative Hair Designs. Dinner theater tickets must be purchased by 7 p.m. Thursday. Show only tickets are $10 and available at the door.
Senior citizens are invited to watch the musical for free at 7 p.m. Friday. The performance will be a rehearsal of the show, and may include some starts and stops of the script.