Love 101: Baldwin is for the romantic
Is Baldwin a romantic place? The people who live here think so.
From the tell-tale Kansas surroundings, to the glow of the Baker University campus, to the quaint houses and shops that make small towns what they are, Baldwin is a place to find love year round.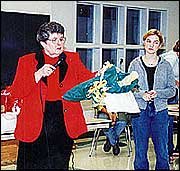 Sure, some people are bound to leave town for the glossy romance of a big city come Valentine's Day, but romance can just as easily be found close to home.
Just ask Star Novak. She relishes the small treasures she can share with her husband, John Smith, that only Baldwin can offer.
"Romance is the little things, like going to the Dari Ring and getting an ice cream cone," Novak said. "Romance is driving out to the lake and watching the sun set. Those little things are easy to do here in Baldwin.
"Baldwin still maintains a small town atmosphere and you feel at home and at ease. It is just not a stressful lifestyle to live here," she said.
One of Baldwin's treasures is the chocolate auction organized annually by the Baldwin Community Arts Council. More than 100 chocolate and art lovers filled Baldwin High School for the auction Sunday, and plenty attendees left with one-of-a-kind gifts to be tucked away until Valentine's Day. The auction raised $3,760 "so far," according to Christy Carlisle, president of the council, "which is very good." They are still counting, too, and will have a total next week.
Chocolate is a Valentine's Day tradition. It scores high points in the taste department, but not for originality (unless, of course, you bought your chocolate at the chocolate auction). If you need lessons in giving an original gift, just ask Larry Black.
He gave his wife, Jeanne, a plain kitchen broom for her birthday this year. It was a practical gift, to say the most, but Jeanne knows that Larry has the potential to be romantic.
Doing some last minute Christmas shopping a few years ago, Jeanne and Larry were amused by the number of men in the long lines. One had his arms full with a skillet and spatulas.
"His wife is going to be really excited," Black recalls saying.
Larry, knowing her words were sarcastic, bought Jeanne a skillet and a spatula that year for Valentine's Day. It was a gift that any woman would have wanted Larry had wrapped a ruby bracelet around the spatula.
"Now he has to redeem himself for the broom," Jeanne laughed.
There are people who are natural romantics, and those who are not. Valentine's Day can put both to the test.
Sprinkles of romance can sweeten the most elaborate or the simplest Valentine's Day plans such as speaking French or reciting a love poem to your sweetheart.
"A lot of people think French is the language of love. It is a pretty sounding language," said Erin Arantowicz, professor of French at Baker University. "Over the years, people have equated French with romance."
It took years for Arantowicz to learn the language she teaches, but it will just take seconds to learn a few romantic phrases she shared. Say "Je t'aine" to say "I love you." Call your "dear" affectionately in French women to men should say "mon cheri," and men to women should say "ma cheri." Or if it's love you want to express, "mon amour" means "my love."
Jeanne Scott, Baldwin High School English teacher, said when it comes to love it is hard to beat the sonnets of Elizabeth Barrett Browning, particularly this familiar poem from "Sonnets from the Portuguese":
How do I love thee ? Let me count the ways.
I love thee to the depth and breadth and height
My soul can reach, when feeling out of sight
For the ends of Being and ideal Grace.
I love thee to the level of everyday's
Most quiet need, by sun and candle-light.
I love thee freely, as men strive for Right;
I love thee purely, as they turn from Praise.
I love thee with the passion put to use
In my old griefs, and with my childhood's faith.
I love thee with a love I seemed to lose
With my lost saints, I love thee with the breath,
Smiles, tears, of all my life! and, if God choose,
I shall but love thee better after death.
"You can't throw away those classics," Scott said. She also recommended the love sonnets of William Shakespeare. "Students take the first few lines of the Elizabeth Barrett Browning sonnet, 'How do I love thee,' and call it their own."
So you know a little French and have memorized a love poem what's next?
Well, if you don't already have the big day all planned out, there are things to do right here in Baldwin. Close enough to Valentine's Day to be considered romantic is the Baldwin City Theatre's musical production of "I Do! I Do!" (see related review in today's paper). If you act fast, you can still make reservations for a pre-show dinner Saturday evening and Sunday afternoon.
The Three Sisters Inn is also serving up Valentine's Day romance. Owner Diane Niehoff still has openings for a Valentine's tea at 3 p.m. Saturday. The tea features cucumber sandwiches, finger sandwiches and lots of sweets. The cost is $10. There also are dinner openings for couples at 6 p.m. Monday. The menu is prime rib or chicken and pasta with an alfredo or tomato basil sauce, choice of chilled raspberry soup or potato soup, a salad, vegetable, roll and dessert white chocolate and raspberry cheesecake, black forest cake or cherry pie. The cost is $15 per person for chicken or $20 each for prime rib. Call the bed and breakfast for more information, 594-3244.
Do all the opportunities for romance leave you feeling overwhelmed? Take it easy and remember what Novak said about the romance of Baldwin: "It is just not a stressful lifestyle to live here."