Flamingos attract donations
Seven-year-old Josh Hoffman has found a way to use plastic flamingos for a good cause.
For the past few weeks, he's been sneaking into people's yards at night and leaving behind a bird called Freddie Flamingo. Attached to Freddie is a note asking for a donation to the American Cancer Society, so that Freddie will "fly away." His family is doing the fundraiser as part of Baldwin City's annual Relay for Life.
Most of the time Josh has been able to sneak in and out of people's yards unnoticed, but he has had more problems with that as the weather gets warmer.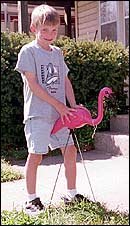 "Sometimes we get busted because people are out in the yard," he said.
"It's been fun to watch. Everyone has been good about making donations," said Susan Hoffman, Josh's mom and one of the co-chairs of Relay for Live.
The family got the idea for the flamingos by watching a video from the American Cancer Society with fundraising ideas. It wasn't as easy as it looked.
"You can't just buy flamingos anymore, you have to special order them," said Susan Hoffman. They were finally able to put together a fleet of five flamingos.
Josh's parents saw the relay as a good way to help him understand that his grandfather has cancer. It has also helped raise money for the American Cancer Society. At last count, the flamingo donations had raised more than $800.
Josh says he feels good about raising money for a good cause, but there is another reason he is excited about next weekend's Relay for Life.
"I'm going to stay out all night," he said.