Family time a short treasure
It seems like a small goal.
Bill and Michelle Leeker, rural Baldwin, hope their 11-month-old son Trevor will live to celebrate his first birthday on May 14.
Three weeks seems so close, but it isn't.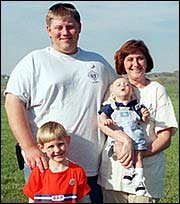 Trevor has Krabbe disease, a genetic disease passed on by both mother and father. The disease is terminal and doctors said Trevor would live less than a year more realistically two to three months from his diagnosis in March.
"Our goal is for him to make it to his first birthday," M. Leeker said.
"We really think he will make it," B. Leeker added.
The occasion would be as big as first birthday parties come.
Lost milestones
The Leekers first noticed something was wrong with Trevor when he was five to six months old. He lost the ability to hold up his head. He went from happy and smiling to crying the length of a day. He had never been a good eater.
Until then, Trevor's development was similar to that of a cousin almost exactly the same age. He was starting to sit up. He was reaching for things. He cooed in his own language.
"We expressed our concern to our pediatrician," M. Leeker said. "He wouldn't believe us that something was wrong."
At eight months, Trevor began having muscle-stiffening seizures.
"It was like he became a board," M. Leeker said.
"You could hold him by his head and feet and he wouldn't bend," B. Leeker said.
Michelle's thoughts drifted to cerebral palsy, a disease she was familiar with from working at a cerebral palsy camp. The Leekers started physical therapy on Trevor. The Leekers persisted that something was wrong, and their pediatrician finally referred the Leekers to the child development center at the University of Kansas Medical Center.
Within a couple of hours, they heard the words that changed everything: "We are going to admit him. We are going to find out what's wrong," the doctors said.
Behind closed doors
Trevor's roommate at the hospital was an 11-month-old with cancer undergoing yet another round of chemotherapy. Bill and Michelle considered themselves lucky.
Then, the Leekers found themselves meeting with an entourage of doctors behind a closed door.
"You knew," B. Leeker said.
"They were going on with all these medical terms and I cut them off 'You are telling me my son is dying,'" M. Leeker recalled.
The doctors said Trevor had less than a year to live. When asked to be more specific, they said two or three months.
That was March 24. Michelle, a first-grade teacher at Kennedy Elementary School in Lawrence, was supposed to be on her spring break.
Precious time
Doctor visits are weekly. Trevor is on seizure and pain medication. A feeding machine feeds him through a tube at night. He weighs what he did at four months just under 15 pounds.
"He is going to go blind. He is going to be deaf," M. Leeker said.
Had the disease been diagnosed earlier, a bone marrow or cord blood transplant could have prevented the disease from progressing. Trevor's case wasn't diagnosed soon enough.
"In order to do it, you have to catch it in the early stages. Trevor was already too far," M. Leeker said.
"He had too much damage to the brain stem," B. Leeker explained.
The Leekers have both taken a leave of absence from their jobs Bill works for Midwest Cabinet Company in Ottawa to spend more time with Trevor, and 5-year-old son Zac.
When Trevor cries, they hold him. When his muscles get stiff, they move his arms and legs to help the muscles relax. They know he hasn't lost his vision, because his eyes can light up a room.
"His eyes smile, even though his face doesn't," M. Leeker said. "And when you don't know how long you will get to hold him in your arms, you don't put him down much."
The odds
Doctors say the Leekers should have won the lottery. That's how long the odds were that both would be carriers of the recessive gene that causes Krabbe disease. Odds are even greater that the two would meet, marry and have children.
Their children have a 25 percent chance of being affected by the disease, a 50 percent of being a carrier, and a 25 percent chance of being a non-carrier.
Zac was tested Monday to determine if he is a carrier, or not. His blood sample was sent to a laboratory in Pennsylvania, where an enzyme will give doctors the answer.
Krabbe disease is an error in the genes that does not allow for proper nerve development in the brain. The central nervous system is most affected, resulting in seizures, inhibited digestion and poor muscle control. Without proper brain functioning, the body begins to shut down.
A wise brother
At the age of 5, Zac understands what is happening to his little brother. He reassured his mom and dad that God would help Trevor do the things he couldn't do here.
"That's Zac's big thing, he wants Trevor to be able to crawl," B. Leeker said.
If the Leekers decide to have more children, they said they would pursue adoption, possibly of a special needs child.
"We are perfectly fine with adoption," M. Leeker said. "Bill was adopted. We know there are other choices out there."
The Leekers are surrounded by family and friends. Teachers from Michelle's school prepare meals for the family twice a week. The Knights of Columbus, of which Bill is a member, held a benefit fish fry for the family Friday night at the Annunciation Catholic Church. The Knights and a high school friend of Michelle's, Jackie Craig, are organizing a benefit dinner and dance for the Leeker family May 5 at The Lodge.
The Leekers have insurance that will cover 80 percent of the medical bills. The first bill they received, which did not include surgery or following visits, was $11,000.
"We never even imagined all the support that everyone has given," M. Leeker said.
Love your family
The Leekers home is as normal as any home with an 11-month-old and 5-year-old. Toys are plenty and Pokemon movies are watched over and over again. On Sunday, Trevor was happy to be held by Michelle after an afternoon nap. Friends are over for company and dinner. Even the occasional stiffening of Trevor's muscles has become normal.
"Everybody expects us to walk around crying all the time. We want to spend it with him," M. Leeker said.
Plenty of tears have been shed. Plenty more will be. Now, they are focusing on their time together something important for every family, they say.
"I don't want people to feel sorry for us," M. Leeker said. "I think what we learned out of this the most is we want people to look at their families and give them an extra hug, or read them an extra book."
The Leekers said it is inevitable what is going to happen to Trevor. And they are facing the inevitable with a strength that friends and family already knew they had.