Wind-whipped Bulldogs thrill home fans
It was an "almost" win, but it's something everyone who was there will remember. The first-ever home softball game for Baldwin High School Friday had it all.
Defense and pitching ruled as Hays eeked out a 1-0 win. Excitement flourished as a packed crowd huddled to watch the Bulldogs at home for the first, and only, time this season. But, mostly there was weather. Winds gusted at 38-50 m.p.h. And it was cold wind, too, wind-chill factor cold.
Didn't matter. The fans showed up and BHS put on a show.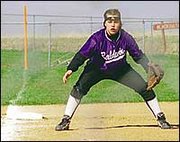 "If you would have had to have paid to get in, you would have got your money's worth," said Ginny Honomichl, BHS softball coach. "It was windy and it was cold. For anybody to show up in weather like that, we can't thank them enough. We needed more bleachers. It's sort of the way sports should be.
"It was bigger than I expected it to be," Honomichl said. "We had such a fine reception. It was wonderful. Other than not winning, it was great. You only get one first time and I thought we did it right."
The sizable crowd got their money's worth and then some. Sophomore Kyrstan Hubbel's pitching was just short of miraculous given the wind conditions. The defense behind her was just as good. The whole team wanted so desperately to put on a good show in front of the home fans.
"They were pumped," Honomichl said of the team. "They didn't embarrass themselves. Suzie Weege had a great day defensively and Jodie Bacon did, too, especially getting back on the field two days after breaking her nose. That took a lot of courage."
Honomichl cited several other defensive gems catcher Kristen Wessel's throw to third to pick off a runner, Kim Sledd's valiant effort at second after the ball had bounced off another player, first baseman Mary Martin's return to the base to stab Sledd's throw and center fielder Katie Martin turning what was almost a home run into an out with a throw to second base from deep center field.
"We had some strange outs," she said. "To get three outs at third base is unbelievable."
The first inning was an indication of what the game would be like. It started with the Bulldogs unaccustomed to being the home team after all the road games.
"We didn't know we had to go out on the field first," said Honomichl.
The Bulldogs retired Hays 1-2-3, but the outs were recorded gunning down base runners attempting to steal, etc. It charged the Bulldogs up and they ran into the dugout where they received a message from their coach.
"Ladies, the wind is NOT blowing," Honomichl said. "We're having fun out there."
Hays scored its unearned run in the second inning to go up 1-0. That's the way the game ended, but it was far from over. BHS had its first scoring opportunity in the fourth inning. Sledd walked, stole second and moved to third on a single by Weege. The inning ended when Sledd was thrown out at the plate attempting to score on a fly ball to center, followed by a ground out.
Then it was time for more defense. Hays loaded the bases with one out in the fifth. Weege fielded a grounder, tagged the runner headed for home and threw to Bacon who was covering third for a double play.
BHS "almost" scored a run in the bottom of the sixth. Bacon opened the inning with a double down the left field line. Sledd followed with a bunt single which resulted in an overthrow at first as Bacon scored and Sledd moved to second. However, the home plate umpire ruled the ball had touched Sledd in fair territory, so he called her out and made Bacon return to second. A strike out and a ground out ended that threat.
"I don't know how he was so sure," Honomichl said of the call. "It's too bad that has to happen in a one-run game. But that was only our first out and the people behind her didn't get it done.
"It would have been fun to get that run and see what would have happened," she said. "Somewhere along the way we'll get some calls that go our way."
The Bulldogs had one more chance in the bottom of the seventh. Emily Black reached on an error. After two strike outs, Hays ended the threat by recording a ground out. But, the play was close at first, which is the way the whole game was.
"We had our chances," said Honomichl. "We played against a good Class 5A program. They've had their program for seven years. They threw their best pitcher at us."
Hays had eight hits to BHS's three. Hubbel struck out two and walked just one, while the Hays pitcher struck out nine and walked four. The loss left the Bulldog's record at 5-2.
After the game, both teams were treated to a feed put on by the parents of BHS players.
"We had a fun time afterward. We fed them and their parents. We're talking about playing them again next year," said Honomichl.
BHS had played a doubleheader Tuesday at Kansas City Piper, where the Bulldogs lost their first game of the season, a 4-3 heartbreaker in extra innings. BHS was up 3-0 in fifth inning, but Piper tied it up in the sixth and then scored a run in the eighth inning to win it.
"We just didn't get the last at-bat," Honomichl said of the loss.
The Bulldogs had six hits, two singles each from Sledd and Hubbel, a single by Black and a double from Wessel. Hubbel took the loss, her first of the season, despite striking out six and walking just two.
BHS bounced back in the second game to win 6-2. After going up 1-0 in the first inning, the Bulldogs fell behind 2-1 in the bottom of the inning. They tied it in the third with a single run and then put a four-run seventh inning together for the victory.
Baldwin had 11 hits, three from Bacon, two from Black and K. Martin, who had a double and a triple. Hubbel picked up the win in relief of K. Martin, who had pitched the first four innings.
The Bulldogs played two games Tuesday in Paola in a tournament format. Results weren't available by press time.