Spring work day grows helpers
Saturday morning was cool, but that didn't stop community members from flocking to the ballfields for a Baldwin City Recreation Commission work day. It was Baldwin at its finest, according to the commission's director, Monte Ezell.
"I was surprised by the turnout. I've tried this in other communities and had three or four people show up," said Ezell. "That's one of the things that's evident about Baldwin City people get together and get stuff done."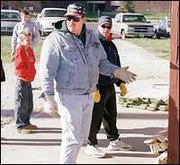 Although workers came and went throughout the day, there was a crew of about 30 throughout. That's also how many were fed lunch, which was provided by Santa Fe Market.
"It was great," Ezell said. "A bunch of them want to do it again. Now it's just a matter of figuring out when."
The crew gave the ballfield entrance, fences, dugouts, gates, etc. a good going-over. The concession stand and the two sheds beside it were cleaned out and reorganized. The biggest project was building an extension to the concession stand, which is about 60 percent complete.
All-in-all, it was a lot of work.
"I think it went great," he said. "We didn't get the extension completed, but almost. It was fantastic. We did a bunch of things that might not show, but needed to be done."
Materials were provided by Baldwin Lumber and the Spring Hill lumber yard. Three people earned star status John Heckathorne, Dennis Mills and Clint Johnston who stepped in on the extension construction when the carpenter that was supposed to show up didn't.
"They were lifesavers," Ezell said of the trio. "They took over that job."
Ezell also gave credit to the rec commission board of directors Paul Vander Tuig, Alan Schmidt, Ralph Ruhlen, Peggy Harris and John Griffin for the effort. All but Griffin were at the work day.
"I can't stress enough how tremendous their leadership is. They have the welfare of the community at heart in everything they do. They make my job easy," he said. "There seems to be a lot of excitement about these kind of things (work days) happening around here. I get credit, but the reality is it was already in place."
The spring cleaning will make ballgames more enjoyable as the season gets closer. But warm weather will, too.
"I was cold all day long," said Ezell. "Even when I was shoveling rock I didn't get warmed up."
But, the turnout by the community did warm his heart.
"Oh, yes, very much so. It was a surprise to see how many people showed up and how much work we got done," he said.