French students taste life at
BHS
Americans go out to eat a lot, or so the French think.
But Aaron Story swore it wasn't true on a trip to France last spring with the Baldwin High School French class.
The BHS senior is eating his words. Story and a friend he made in France, Olivier Saunier, 16, have been eating out every day lately. Saunier is staying with Story for two weeks, part of which is a school break for Saunier.
"They joked about how much Americans went out to eat, then he comes here and that's what we've been doing," Story said. "Breakfast is the only actual meal we've had at home."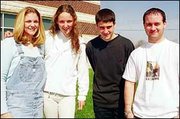 Kristen Wessel, a BHS junior, also was part of the French class spring break trip last year. Wessel stayed with Blandine Hecquet, at her family's vineyard. Hecquet, 15, is also visiting Wessel for two weeks.
"After we went to France, we stayed in touch with letters and phone calls," Wessel said. "And we made plans for them to come to Baldwin."
Saunier and Hecquet are from Bordeaux, France a region renowned for its vineyards and history. Hecquet got her first taste of the United States in Chicago, where she met Kristen and her mother, Peggy Wessel. Saunier flew into Kansas City his first flight and his first trip to the U.S.
"Chicago was a very big town," Hecquet said.
Baldwin was more like home to her, except for the absence of vineyards.
"It's very green," she said of Baldwin. "There are lots of farms."
"It's a lot like Bordeaux," Saunier added.
Not much else is like Bordeaux not school, not food, not extracurricular activities.
"In France, school is very strict," Hecquet said. "We can't sing. We can't have ceramics, or draw."
Story can account for the strictness. He got in trouble for chewing gum in math class during his stay.
Both Saunier and Hecquet expect homework will be plentiful when they return, because they are missing some school while they are here. They have time for homework, they said, because it is hard for a teen-ager to find a job where they live and they can't drive until they are 18 or 16 with a parent.
Besides a quick tour of Chicago, Hecquet has watched the BHS softball team practice and play games; attended Wessel's classes and been introduced to her first coney dog at Sonic.
"They don't have softball in France, so this was her first time," said Wessel, a softball player.
Story and Saunier have played laser tag, gone to the movies and dined out, of course. Saunier ate Mexican food for the first time.
What is their favorite thing here so far? Hecquet says breakfast, especially pancakes with syrup. Saunier says the straight, wide roads although Americans drive slowly. He also laughed about the big cars here Story drives an '85 Oldsmobile.
Both Wessel and Story would like to go back to France some day. All of the students plan to keep in touch.
"France is very beautiful. My family wants to go some day," Wessel said.
Saunier and Hecquet will be leaving in a few days, and their lives will return to normal in the land that resembles Kansas only with vineyards.