Wedding
Mishkin and Schroer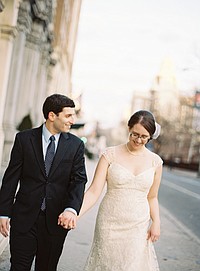 Grace Ellen Schroer, daughter of James Schultze and Grace A. Schroer of Vinland, Kansas, was married on February 12 to Max Mishkin, son of Jeremy and Barbara Mishkin of Wynnewood, Pennsylvania. Judge William H. Yohn Jr. officiated the ceremony in his chambers in Philadelphia.

The couple met their freshman year in college as members of the Harvard University Band—she a clarinet player, he a tubaist. The bride, 27, received a master's degree in public health from Emory. The groom, 28, received a law degree from Yale.

Grace is a Presidential Management Fellow at the National Cancer Institute, part of the National Institutes of Health. Max is a law clerk to Judge Yohn. The couple will reside in Bethesda, Maryland.