Engagement
Hawley and Craig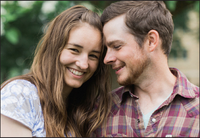 Brenna Hawley and Dennis Craig are pleased to announce their engagement. Brenna is the daughter of Kevin and Cathie Hawley, Waco, Texas, and Helen Hofmeister Hawley, Grand Rapids, Michigan. Dennis is the son of Mike and Julie Craig, Baldwin City.
Brenna works as a web consultant at DEG Digital in Overland Park. She is a 2006 graduate of Salina High School Central and earned separate degrees in both journalism and political science from the University of Kansas.
Dennis is a 2003 graduate of Baldwin City High School. He received a Bachelor of Science in theatre with a concentration in voice from Kansas State University. He works on the family farm and is active in the local theatre
community.
A March 2015 wedding is planned in Baldwin City.