Anniversary
Gottstein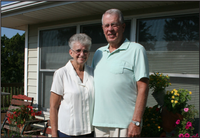 John and Suzi Gottstein were married September 20, 1964.
Their children will be hosting a celebration for their 50th wedding anniversary on Sunday, August 31, at the Lodge in Baldwin, City, KS from 3:00 - 5:00 pm.
They invite all family and friends to celebrate with them.
The couple requests no gifts please.
Engagement
Foye and Siemiller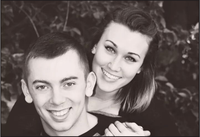 Frank and Judy Foye, Baldwin City, announce the engagement of their daughter, Ally Noel Foye, to Jordan Christopher Siemiller. Jordan is the son of David and Denise Siemiller, Wichita. Ally is a 2011 graduate of Baldwin High School, and a 2013 graduate of Paul Mitchell the School Wichita.
She is currently employed at the Progressions Salon in Wichita and at Paul Mitchell the School Wichita. Jordan
is a 2011 graduate of Goddard High School, and is currently employed by the Sedgewick County Sheriff's department in Wichita. A May 2015 wedding is planned in Derby, KS.