Engagement
McHenry and Blochowiak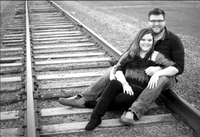 The families of Alicia Machille McHenry and Preston Michael Blochowiak are pleased to announce their engagement. Alicia is the daughter of Tim and Ouesia McHenry of Oklahoma City, Oklahoma. She is the granddaughter of Alice Bridges and the late Joseph A. Bridges, Sr. of Shawnee, Oklahoma and Sandra McHenry and the late William "Bill" McHenry of Baldwin City.
Preston is the son of Lori Blochowiak of Shawnee, Oklahoma and Eric and Holly Dempsey of Central City, Arkansas. He is the grandson of Robert "Bob" and Elizabeth Blochowiak of Shawnee, Oklahoma and Edwin Dempsey of Barling, Arkansas and Susan Ashworth of Fort Smith, Arkansas.
The couple plan to wed June 21, 2014 in Midwest City, Oklahoma. After a brief honeymoon, they will make their residence in Shawnee, Oklahoma with their 2 sons, Jace and Hayden.