Engagement
Flory and Pierce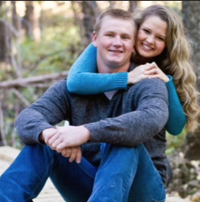 Darren and Jennifer Flory, Baldwin, are happy to announce the engagement of their daughter, Cassandra Luann Flory, to David William Pierce, son of Randy and Karla Pierce, Eudora.
Cassandra is currently pursuing her nursing degree at Hutchinson Community College. David will graduate
in the spring from Barton County Community College with a degree in Criminal Justice.
A July 5th wedding is planned at Grace Evangelical, Lawrence.