Engagement
Gilges and Brazzle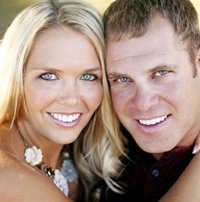 Elvin and Denise Gilges of Baldwin City, KS announce the engagement of their daughter, Lauren Gilges to Luke Brazzle, son of Jim and Sandy Brazzle of Wamego, KS.
The bride to be graduated from Baldwin High School in 2004. She graduated from Baker University in 2008 with a bachelor's degree in Nursing. She now works as a Registered Nurse in the Emergency Room at Mercy Regional Health Center in Manhattan, KS. Lauren is the granddaughter of Patricia Gilges of Baldwin City.
The future groom graduated from Wamego High School in 2004. He graduated from Manhattan Area Technical College in 2009 with a degree in Electric Power and Distribution. He now works as a Journeymen Lineman for Bluestem Electric Cooperative in Wamego. Luke is the grandson of John Brazzle of Wamego and Jack and Virginia Colbert of Zeandale, KS.
Lauren and Luke are planning to wed June 1, 2013 in Baldwin City.