Anniversary
Haid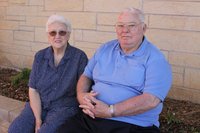 Mary and Elton Haid celebrated their 50th wedding anniversary on Oct. 6.
Mary Pearson and Elton Haid were married Oct. 6, 1962 in Topeka.
Mary grew up in Baldwin, and met and married Elton while working in Topeka. Shortly after their marriage, the couple moved to Lawrence where they worked for many decades. Elton retired from a career in printing. Mary retired after a long career in banking and currently volunteers in the LMH gift shop.
The couple requests no gifts but would love to hear from their friends
in the community. Cards may be sent to 876 Coving Dr., Lawrence, KS 66049.